In Quebec, criminal activity in public places is becoming a recurring problem. In 2022, police departments recorded a massive rise in theft and crime rates. These acts are primarily committed in public places left unprotected or with inadequate protection.
Taz Alarme rectifies this concerning situation by offering a comprehensive solution for car dealerships security. This is a feat in terms of video surveillance for dealers whose goal is to guarantee the interior and exterior security of their automotive fleets and to protect themselves from suspicious activities. Below, you will see the methods implemented by Taz Alarme to address the issues of protecting auto dealerships.
Wave of thefts and vandalism in car dealerships in Quebec
Insecurity in Quebec is an issue of concern. Indeed, automotive dealerships house high-value industrial equipment and mechanical objects. In these locations, cars are considered an expensive inventory. Generally, vehicle fleets are not equipped adequately with security cameras, and when they are, they do not benefit from video surveillance services which would deter criminal activities.
This is a reality of which criminals are aware. In terms of protection issues, it is necessary for auto dealers to equip themselves with adequate surveillance devices and to benefit from a video surveillance service. Dealers need to take security measures to limit the wave of catalytic converter thefts that is raging in Canada. These thefts normally occur at night during closing hours without video monitoring.
Outside of business hours, video surveillance makes it possible to notify the virtual security team of each movement that takes place on the dealership location. The officer intervenes vocally on the site through loudspeakers installed by Taz Alarme to scare off the intruder or else quickly call 911.
Auto dealers who benefit from a video surveillance service have seen their claims of damage to their car fleet greatly reduced.
Furthermore, it is important to know that, through stealing cars from dealerships, criminals become more clever at eluding car dealership security systems. It is therefore essential to set up a proactive video monitoring system for auto retailers. Some dealerships have become uninsurable due to high numbers of thefts and property damages.
How to secure automotive fleets?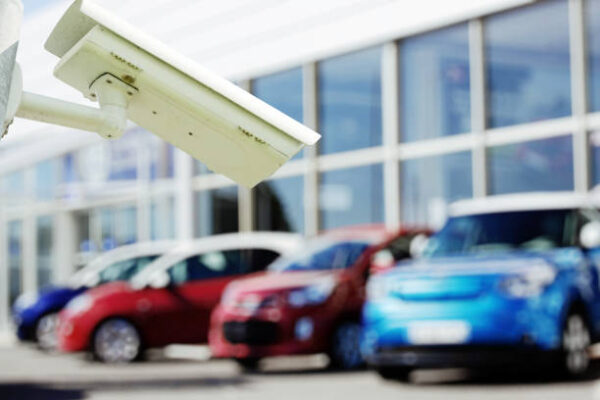 Car dealership security is no easy task. It requires more in-depth security solutions.To do this, you can contact our team of security experts, which offers comprehensive security services, particularly in terms of smart virtual video surveillance.
Taz Alarme is a security company that offers a high level of expertise to combat this scourge. Its activities provide asset security and peace of mind.
In terms of surveillance systems, Taz Alarme deploys:
A personalized turnkey plan

to secure the car fleet and the interior of the building. This plan is developed hand in hand with the dealership owners and defined according to their budget.

Next-generation video monitoring solutions:

. Video surveillance cameras function through motion detection, night vision, or thermal cameras. They automatically react via loudspeakers to report the presence of unauthorized access on the premises. This kind of security solution is effective and dampens the willingness of the vehicle thefts to continue their malicious acts.

Surveillance by a virtual security officer in real time

to maintain order in the fleet and the security of the dealer's assets.

Video surveillance cameras that produce images which will serve as evidence when filing a complaint.
At this point, you are no longer novices when it comes to the criminal realities in Quebec as well as the security and effective security measures that must be implemented to limit thefts in automotive dealerships.
The company offers advanced security solutions in terms of public safety. Trust us to protect your assets and gain peace of mind. Contact our security professionals to help you with all your car dealership security needs.