Intercom System for Condos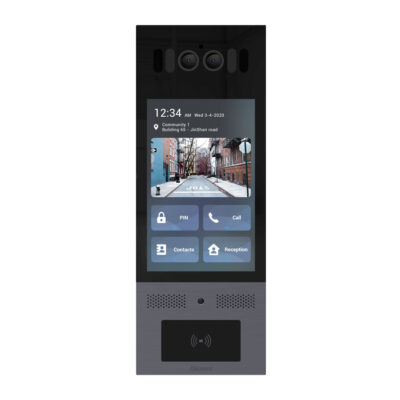 Do you want to have a condo intercom system installed? Taz Alarme offers several intercom models that will help you maintain control over comings and goings and improve the level of security in your buildings.
The 3 different intercom models for condos
The wall-mounted system: The basic model. No speaker, microphone, or camera. Only a buzzer to notify your tenants that they have a visitor. They just have to press a button to unlock the door and grant access to the building.
Wall-mounted intercom with telephone: The traditional building intercom. It comes with a buzzer and a telephone to communicate before granting access.
The automated remote access system: This is the most state-of-the-art condo intercom. This model is equipped with a speaker, a microphone, and a camera. It therefore allows for visual and sound verification of visitors. This is the most advanced technology, and it can be controlled from a smart device.
Taz Alarme: your condo intercom system installer
The Taz Alarme advantages
There are also many advantages to choosing Taz Alarme. Here are some of them.
Warranties (basic, extended, and satisfaction)
Fast installation (24 to 72 hrs.)
Free reinstallation
Deductible reimbursement
Professional condo intercom cell phone installation service since 2015
Taz Alarme specializes in the sale and installation of security systems for individuals and businesses. We also offer you:
Don't hesitate to fill out our form at the bottom of the page for an estimate of your project. We will contact you to discuss the details and find the perfect security solution for you.
What is a condo intercom system?
What is a condo intercom system?
An intercom system is a residential and commercial security device designed for apartment blocks, condos, and certain commercial buildings. This is a standalone two-way device that offers you better control over the people who are accessing the property.
How does an intercom for condos work?
How does an intercom for condos work?
These devices operate on a different network from the landline. Installed in the entrance of a building, they are equipped with:
A speaker
A microphone
A camera
The sound and video are transmitted directly to the tenant in question, which allows them to visually verify the visitor's identity and remotely unlock the door.
Building managers can also revoke access or add permissions at the appropriate time. It's an undeniable advantage for you, your tenants, and visitors. Now, discover the different types of condo video intercom system to make the right choice for your building.
Why install a condo door intercom?
Why install a condo door intercom?
A higher level of safety thanks to a condo intercom system
Installing this system greatly improves security because it protects the entire building. In a condo, an intercom system for each apartment therefore offers your tenants the unparalleled peace of mind of knowing that they have total control over who has access to the property.
Improves communications
Opening the door to strangers is no longer as safe as it once was, so it's necessary to give your tenants the opportunity to grant access to their visitors without taking any risks. Thanks to a remote access control system, you make the communication process simple and secure.
Simpler deliveries
Intercoms are also practical for deliveries. They allow your security guards to grant access to delivery people without leaving their post.